24/7 Emergency Restoration Company in Bunn NC
Looking for an emergency restoration company that is on call 24/7 for your commercial or home restoration cleanup needs? Atlantic Restoration LLC is located in Wake Forest, but provides high quality disaster restoration to customers all over Bunn. Our expert restoration experts can handle water damage restoration, fire & smoke damage cleanup, flood & storm damage restoration, as well as mold removal and crime scene clean up. Let our experts help restore your property to it's pre damaged condition.
It doesn't matter if you call in the middle of the day or middle of the night, one of our restoration experts will respond to your request quickly in Bunn or the rest of the Triangle area of NC.
ABOUT ATLANTIC RESTORATION LLC SERVING BUNN NC
Atlantic Restoration LLC is a trusted 24/7 full service, licensed, commercial and residential disaster restoration company located in Wake Forest. We serve Bunn NC and most of Eastern North Carolina from Greensboro to the coast. Our trained restoration experts are knowledgeable, experienced, and have the right tools to handle your biggest restoration issue. We understand that disasters such as storm damage, fire damage, water damage, flood damage, and crime & trauma cleanup needs don't always happen at convenient times, that why we are on call 24/7 for you.  More importantly, we care about our community and the people who live here. That's the difference between us and the national chains, we actually live in the community we serve. Give us a call the next time you need disaster restoration services and find out what makes us different.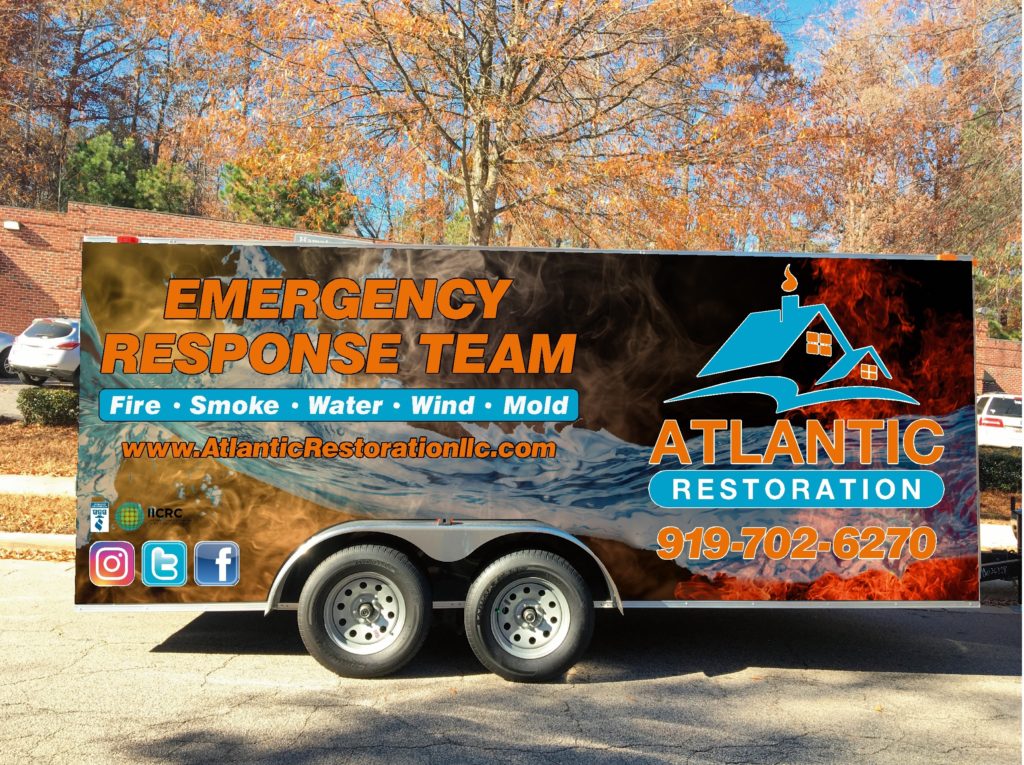 CONTACT ATLANTIC RESTORATION LLC IN BUNN
The next time you need any type of disaster restoration service for your home or commercial property in Bunn NC, consider Atlantic Restoration LLC for the job. We are able to handle the toughest restoration jobs including: water damage restoration, trauma and crime scene cleanup, sewage backup cleanup, storm damage Repairs, flood damage restoration, board up services, smoke and fire damage repair & mold removal services in our service area. While we are located in Wake Forest, we provide service to Bunn, Raleigh, Franklinton, Rolesville, Creedmoor, Henderson, Oxford, Louisburg, Durham, Cary, Garner, Burlington, Mebane, Greensboro, Butner and the majority of Eastern NC, to the coast. Contact us online or call us at 919-710-4792 for a free estimate on your emergency disaster restoration needs in Bunn NC.
How Can Our Emergency Restoration Team Help?