24/7 Emergency Restoration Company in Knightdale NC
Altantic Restoration LLC takes pride in providing high quality disaster restoration services in Knightdale NC. We are open 24 hours a day, 7 days a week, year round for both residential and commercial emergency disaster restoration in Knightdale. The reason we are always open is because disasters like floods, storms, sewage backup, traumatic accidents, fires, and water damage can happen any time day or night. Our team of restoration disaster cleanup professional work with residential and commercial clients to restore their properties to pre-damage condition when disaster strikes. Water damage restoration, fire damage repair, mold removal, storm damage cleanup, and traumatic accident clean up are some of the services we provide in Knightdale & the Triangle. Call us at 919-710-4792 for a free estimate, we're here to help!
ABOUT ATLANTIC RESTORATION IN KNIGHTDALE
Atlantic Restoration is a locally owned and operated company based in Wake Forest NC. We provide residential and commercial disaster restoration services from Greensboro to the East Coast of NC. We know that disasters, both natural and man-made, can happen any time day or night, often when it's not convenient. That's why our disaster restoration team is open 24/7 in Knightdale NC. Our goal is to get your home or business fully operational as quickly as possible. We are IICRC certified and licensed so you know we'll get the job done right the first time. When you call us at 919-710-4792 or contact us online one of our Knightdale restoration professionals will be in touch with you quickly, if not immediately. We'll get an idea of the scope of the damage and send out a team that can begin work on the disaster restoration process. We will work with you through every step of the restoration process, so you'll know exactly what we're doing every step of the way. We'll even work with your insurance company to make sure that your billing is taken care of, it's just one more way we make an already stressful time a little bit easier.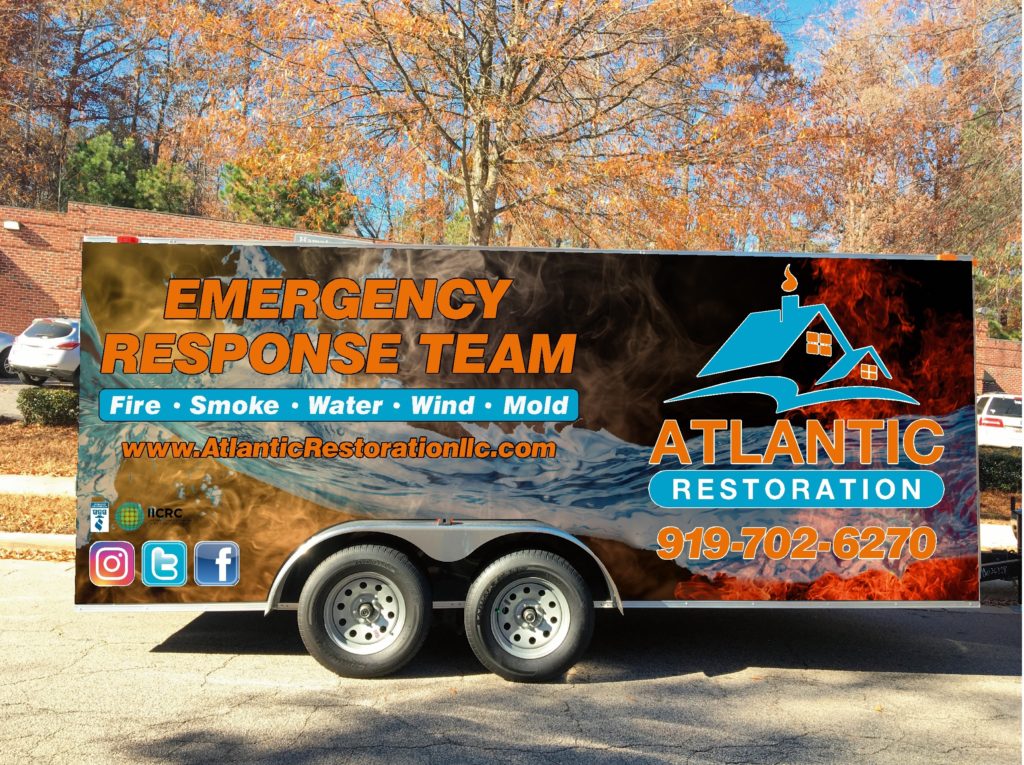 [google-reviews-pro place_name='Atlantic Restoration LLC' place_id=ChIJPfGRcaCsrYkRk82tPvGapH0 auto_load=true rating_snippet=true min_filter=3 view_mode=slider open_link=true]
CONTACT US FOR EMERGENCY DISASTER RESTORATION IN KNIGHTDALE NC
When you need Disaster Restoration Services in Knightdale NC, any time of the day or night. Atlantic Restoration is on call. Our team is ready to stop the source of the damage, if necessary, clean up any debris left from the damage, sanitize and clean the affected areas, before repairing and restoring your property to pre-disaster conditions. We have a large service area that includes: Durham, Franklinton, Greensboro, Raleigh, Henderson, Rolesville Cary, Butner, Oxford, Zebulon, Apex, Burlington, Butner, Garner, Youngsville, Mebane, Wake Forest. Durham, Bunn & the surrounding areas from the Triad to the Coast of NC. Get a free estimate or have a disaster restoration technician in Knightdale sent to your property as quickly as possible by calling 919-710-4792.
Get in Touch With Our Emergency Disaster Restoration Team in Knightdale NC