Emergency Disaster Restoration Services in Franklinton NC
Disasters can strike any time, which means that you may have a need for disaster repairs & restoration any time day or night. Fortunately, Atlantic Restoration LLC is open 24 hours a day, 7 days a week, 365 days a year and has the expertise and experience you want for all of your emergency disaster restoration projects in Rolesville NC. We work with residential and commercial clients to restore their property to pre-damage conditions. Our team of restoration cleanup technicians can handle any emergency restoration project, no matter the size. From crime scene & trauma cleanup, to water damage restoration and mold removal, you can count on us to help relieve some of the stress that a disaster can cause.
ATLANTIC RESTORATION IN FRANKLINTON NC
Atlantic Restoration is based in Wake Forest NC, it's where we're from, which means that North Carolina is our community. As an emergency disaster restoration company, we understand how stressful damage to your home or business can be. We care about our community and always strive to help our customers remove as much stress as we possibly can during an already stressful time. That's why we are open 365 days a year, 24/7 to provide our community with emergency disaster restoration services in Franklinton NC. We are fully licensed and IICRC certified, so you can be sure that we're going to get the job done and get it done right. Our highly experienced disaster restoration technicians understand that storm damage, water damage, trauma, fire damage, and floods can happen any time day or night, not just when it's convenient. That's why when you call us at 919-710-4792 or contact us online, a real person will respond, when our team arrives, we'll have the right tools for the job so we can begin getting your life back to normal as quickly as possible. Our disaster restoration team in Franklinton will even help you work with your insurance company to make sure everything is covered and taken care of.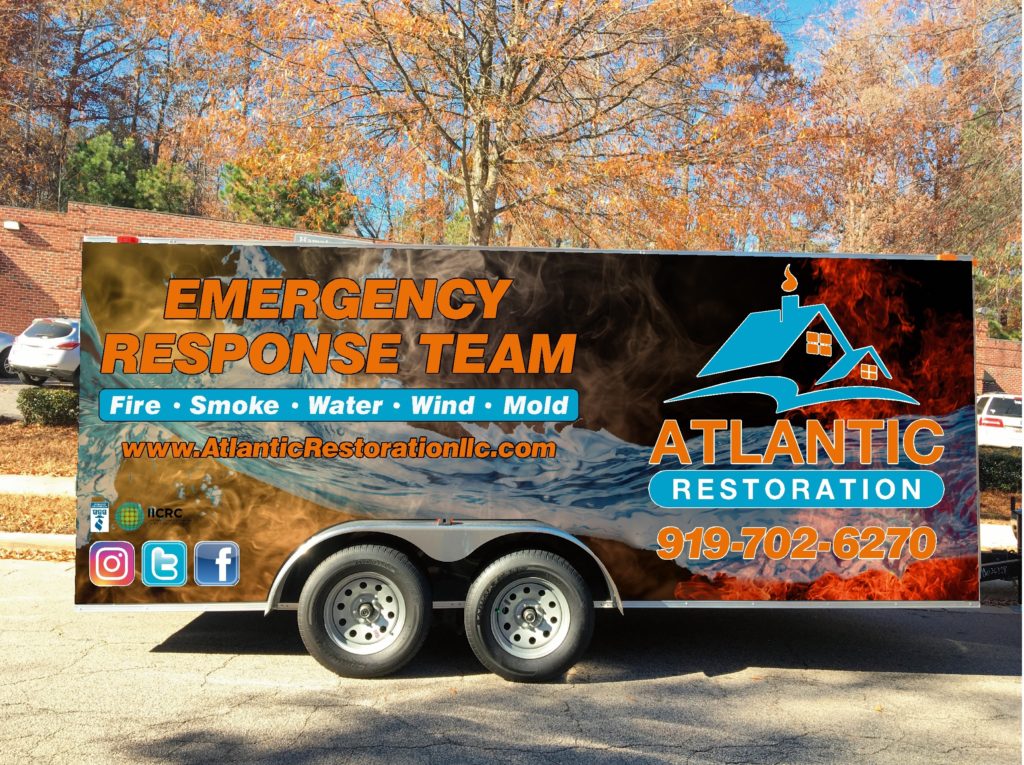 [google-reviews-pro place_name='Atlantic Restoration LLC' place_id=ChIJPfGRcaCsrYkRk82tPvGapH0 auto_load=true rating_snippet=true min_filter=3 view_mode=slider open_link=true]
CONTACT ATLANTIC RESTORATION FOR 24/7 DISASTER RESTORATION IN FRANKLINTON NC
If your home or business in Franklinton has become damaged and you need disaster restoration services, contact Atlantic Restoration LLC. We have the experienced staff you want to handle all of your disaster restoration needs in Franklinton including: Storm damage repair, trauma clean up & Crime scene cleanup, fire & smoke damage repair, water damage restoration (flood damage cleanup, leaky roof water damage repair, and sewage backup cleanup), as well as mold removal & board up services. We are always on call and ready to begin the restoration project at a moment's notice, 24 hours a day, 7 days a week, 365 days a year. We provide our disaster restoration services to a large service area from Greensboro to the Coast of North Carolina. Of course we provide service in Franklinton, but we also provide disaster restoration to Raleigh, Henderson, Oxford, Louisburg, Durham, Cary, Garner, Burnlington, Mebane, Butner, Wake Forest, and beyond. Call us for a free estimate at 919-710-4792 or contact us online on your disaster restoration project in Franklinton.
How Can Our Emergency Restoration Team Help?