Emergency Disaster Restoration in Mebane NC
Property owners in Mebane NC likely know that property damage can happen at almost anytime, day or night. Storms that cause flooding, leaky roofs, sewage backup are all causes of water damage that can happen without any notice. Fire damage, even from a small fire can lead to soot and smoke throughout your property. Toxic mold growth and trauma from accidents or crime can be a bio-hazard that needs to be cleaned up quickly. Atlantic Restoration LLC provides 24/7 emergency disaster restoration services in Mebane NC. Our goal is to get your home or business back to it's pre-disaster state, so you can resume your day-to-day life, as quickly as possible…without sacrificing any quality.
Our disaster restoration experts in Mebane are on call 24/7 because we understand how stressful a disaster can be, especially if it leaves your home in an unlivable condition. Give us a call day or night and we'll get the disaster restoration process started and finished quickly.
ABOUT ATLANTIC RESTORATION IN MEBANE
Atlantic Restoration provides 24/7 emergency disaster restoration services in Mebane NC & the surrounding areas. Based in Wake Forest NC, we serve from Greensboro to the coast. As a locally owned disaster restoration company in NC, we care about our community. That's why we are open 24 hours a day, 7 days a week, 365 days a year. We want to make sure that we have your home or business ready for use as quickly as possible after a disaster strikes. We understand that disasters can happen any time day or night, so if you need residential or commercial disaster restoration services for any reason, don't hesitate to contact us. When you call us for water damage restoration, fire damage & smoke remediation, mold removal, crime or trauma clean up, or storm damage repairs, you'll speak to a real person who will start the process of restoring your property to it's pre-disaster condition. We'll even work with your insurance company to make sure that your bill is paid and you're on your way back to your normal day-to-day life. Call us at 919-710-4792 or contact us online for a free estimate.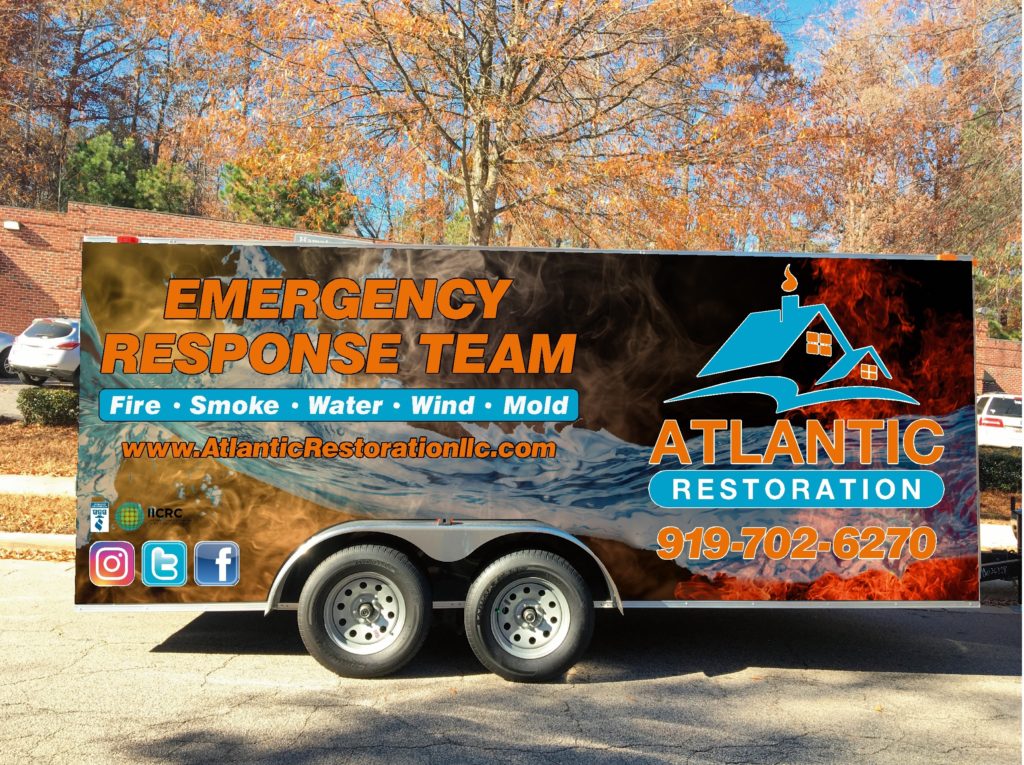 [google-reviews-pro place_name='Atlantic Restoration LLC' place_id=ChIJPfGRcaCsrYkRk82tPvGapH0 auto_load=true rating_snippet=true min_filter=3 view_mode=slider open_link=true]
CONTACT ATLANTIC RESTORATION IN MEBANE FOR DISASTER RESTORATION SERVICES
If you need a high quality, experienced, professional disaster restoration company in Mebane, Atlantic Restoration LLC is on call 24/7, 365 days a year. This is because we understand that disasters don't always strike when it's convenient. We provide many different restoration services including water damage restoration from just about any source of water damage, including: Sewage backup, leaking roofs, basement floods, storms, broken water pipes and more. We also provide board up & tarping services, fire damage restoration, crime scene & traumatic accident cleanup, and mold remediation & removal in Mebane NC. We provide our disaster restoration services in Mebane, Raleigh, Cary, Wake Forest, Youngsville, Rolesville, Burlington, Greensboro, Franklinton, Apex, Zebulon, Oxford, Knightdale, Butner, Oxford, Durham, Creedmoor, and the majority of Eastern NC. Contact us online or give us a call at 919-710-4792 for a free estimate on your restoration project in Mebane.
Contact Our Restoration Company in Mebane NC Today