24/7 Emergency Restoration Services in Raleigh NC
Atlantic Restoration LLC is available 24 hours a day 7 days a week for commercial restoration services and residential restoration services in Raleigh NC. Our technicians are always on call to assist with water damage restoration, fire damage restoration and smoke damage remediation, storm damage cleanup, mold damage remediation, crime scene and trauma cleanup, and board up services.
No matter when you call, a member of the Atlantic Restoration LLC will respond quickly to your restoration service needs in Raleigh and nearby areas we serve.
ABOUT ATLANTIC RESTORATION LLC IN RALEIGH NC
Atlantic Restoration LLC is a 24/7 emergency disaster restoration company serving Raleigh, The Triangle and Eastern North Carolina. We provide both residential and commercial damage restoration services including, but not limited to, the following: Emergency Water Damage Restoration, Trauma & Crime Scene Cleanup, Fire & Smoke Damage Repair, Wind & Storm Damage Restoration, Flood Damage Restoration and more. Most importantly, we are from North Carolina and love working within the communities we serve. The customers we help are our friends and neighbors, the folks who live in our community. The next time you need disaster restoration in Raleigh NC or beyond, give us a call at 919-710-4792 or contact us online for a free estimate, and find out what makes us different.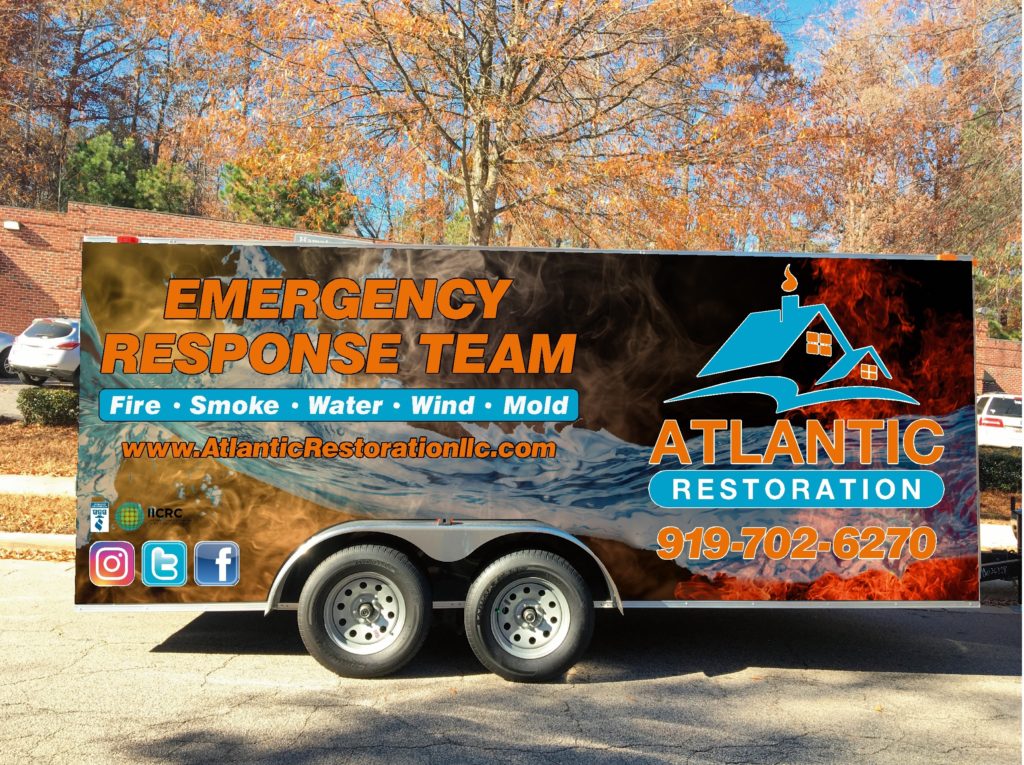 CONTACT ATLANTIC RESTORATION LLC IN RALEIGH NC
Contact us online or call 919-710-4792 anytime for water damage restoration needs like ceiling leak and roof water damage repair, sewage backup cleanup, and flood damage restoration, storm damage cleanup, smoke and fire damage repair, mold removal, trauma and crime scene cleanup, tarp placement and board up services, and any other commercial or residential restoration services. Atlantic Restoration LLC is always on call in Raleigh, Wake Forest, Knightdale, Youngsville, Garner, Cary, Durham, Louisburg, Oxford, Burlington, Henderson, Creedmoor, Bunn, Mebane, Rolesville, Butner, Greensboro, and other locations we serve throughout the Triangle and beyond.
How Can Our Emergency Restoration Team Help?