24/7 Disaster Restoration in Greensboro NC
If you own a home or business in Greensboro NC, you probably know that disasters can strike at anytime. Storms, floods, leaks in your home, and sewage backup happen seemingly at random and can lead to a need for water damage restoration. If left unchecked, you may find that you have toxic mold growing in your home, creating a need for a professional mold remediation company in Greensboro. Even a small house fire can create soot and smoke that needs to be cleaned up, repaired, and then restored as well. Crimes, suicides and other traumatic events can also happen, leaving behind a mess that is a bio hazard.
Fortunately, Atlantic Restoration LLC, is on call 24 hours a day, 7 days a week. We understand how stressful it can be to have your home or business be ruined by a disaster, that's why our disaster restoration company is only a phone call away, any time day or night.
ATLANTIC RESTORATION LLC IN GREENSBORO NC
Atlantic Restoration, LLC, is the trusted source for emergency disaster restoration in Greensboro and the Triad area of North Carolina. We are based in Wake Forest, but provide our services from Greensboro to the coast of North Carolina. We are a local NC based disaster restoration company that cares about our community. We know that disasters can happen at anytime, that's why we are open 24 hours a day, 365 days a year. Our disaster restoration experts are fully licensed and IICRC certified, so you can be sure that we're going to always provide high quality disaster restoration services in Greensboro, no matter how big the damage is. When you call us at 919-710-4792 a real person will answer (or be in touch with you very quickly) to assess the situation and, if needed, send out a team to get to work quickly. We'll figure out the best strategy to getting your property back to it's previous condition, so your life can be stress free again as quickly as possible. We'll even take the time to work with your insurance company to make sure that all of the bills are taken care of.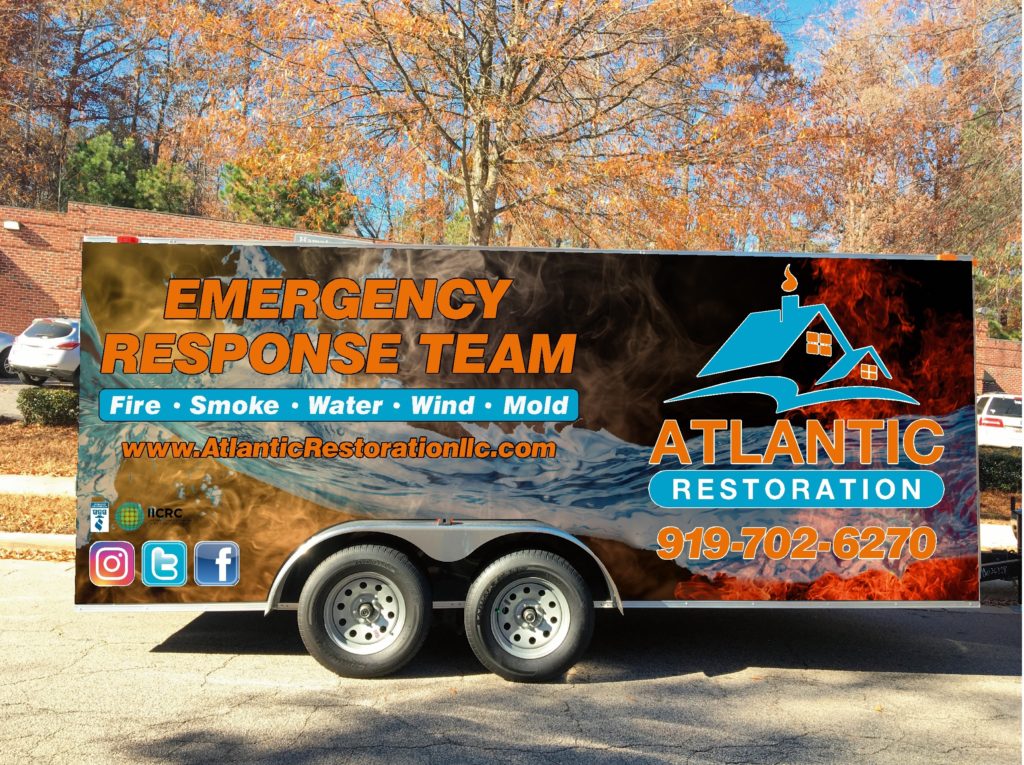 [google-reviews-pro place_name='Atlantic Restoration LLC' place_id=ChIJPfGRcaCsrYkRk82tPvGapH0 auto_load=true rating_snippet=true min_filter=3 view_mode=slider open_link=true]
CONTACT ATLANTIC RESTORATION FOR DISASTER RESTORATION IN GREENSBORO NC
If you are looking for a high quality, professional, and experienced disaster restoration company in Greensboro NC, you should consider Atlantic Restoration LLC. We have a highly trained, professional staff that's ready to handle all of your disaster restoration needs, including, but not limited to: Crime scene & trauma cleanup, water damage restoration, board up services,  mold removal, and fire damage repair in Greensboro NC. Our teams are ready to go at a moment's notice, 365 days a year and 24 hours a day. Our service area extends from Greensboro to the coast of NC. We proudly provide service to Wake Forest, Mebane, Youngsville, Franklinton, Rolesville, Oxford, Raleigh, Cary, Apex, Holly Springs, Garner, Durham, Burlington, Butner, Henderson, Knightdale, Zebulon, and beyond.  If you need disaster restoration in Greensboro, call Atlantic Restoration LLC for a free estimate at 919-710-4792 or contact us online.
How Can Our Emergency Restoration Team Help?