24/7 Emergency Disaster Restoration in Durham NC
Homeowners & Business owners alike know that storms, floods, leaks and other man-made or natural disasters can happen at any time, often when it's not convenient. Atlantic Restoration LLC provides both commercial & residential disaster restoration in Durham, NC. We're always on call, 365 days a year, 24 hours a day so we are able to respond to your emergency disaster repair needs as well as non-emergency restoration needs. When you contact a member of our professional disaster restoration technicians, they'll ask all the right questions so they can make sure our team that arrives on location will have the right tools available to immediately begin work on your restoration & repair needs. Call us at 919-702-6720 or contact us online for a free estimate on disaster restoration in Durham NC.
ABOUT ATLANTIC RESTORATION IN DURHAM NC
Based in Wake Forest NC,  Atlantic Restoration LLC provides service from Greensboro to the coast of North Carolina, and everywhere in between. That means we are able to provide you with 24/7 emergency disaster restoration in Durham any day of the week. We provide high quality water damage restoration, fire damage restoration, flood cleanup, sewage backup repair, tarp & boardup services, trauma and crime scene cleanup, leaky roof water damage restoration, and mold removal & remediation to residential and business customers in our service area. Call us at 919-710-4792 or contact us online for a free estimate on disaster restoration in Durham NC today.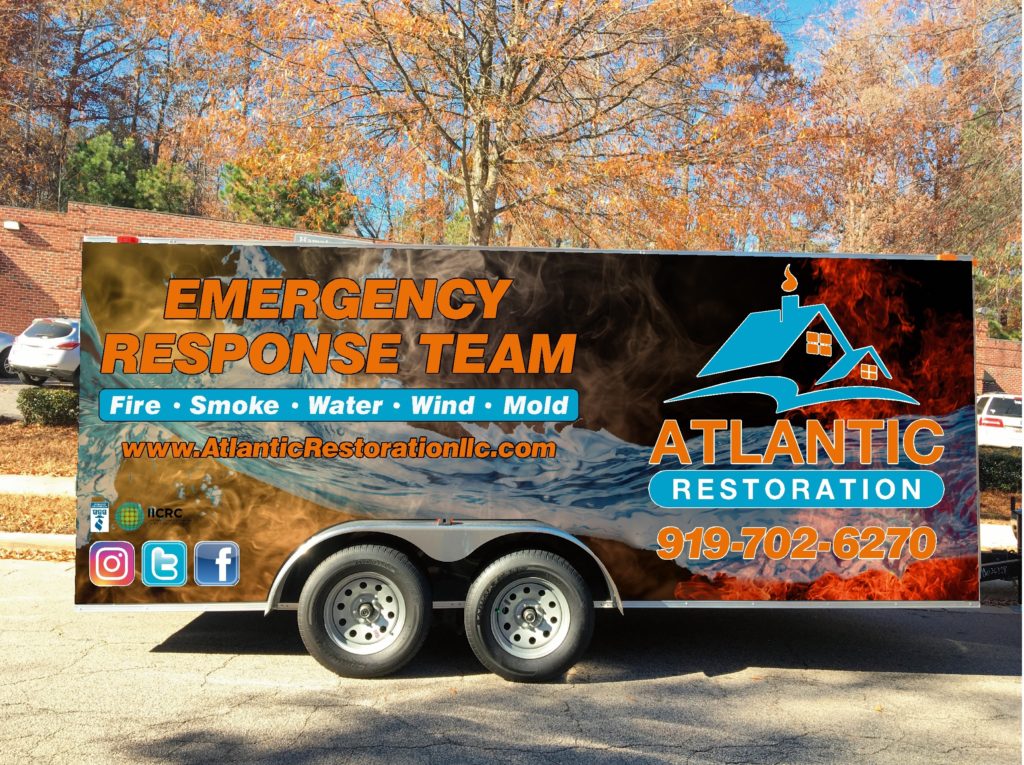 [google-reviews-pro place_name='Atlantic Restoration LLC' place_id=ChIJPfGRcaCsrYkRk82tPvGapH0 auto_load=true rating_snippet=true min_filter=3 view_mode=slider open_link=true]
CONTACT US FOR 24/7 EMERGENCY DISASTER RESTORATION IN DURHAM NC
If your home or business in Durham NC needs a high quality, trusted, and professional disaster restoration provider, Atlantic Restoration LLC can be on the job quickly. Our goal is to have your home or business back to it's pre-damage condition as quickly as possible without sacrificing any quality. We handle all kinds of disaster restoration such as: fire damage repair, Crime scene & trauma cleanup, mold removal, and water damage restoration in Durham. We proudly provide service to Wake Forest, Mebane, Youngsville, Franklinton, Rolesville, Oxford, Raleigh, Cary, Apex, Holly Springs, Garner, Burlington, Butner, Henderson, Knightdale, Zebulon, and beyond. You don't always know when you'll need a disaster restoration company in Durham, but no matter when you find yourself in need, call us 24 hours a day at 919-710-4792.
How Can Our Emergency Restoration Team Help?